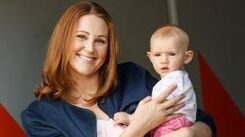 Stevie is the newborn daughter of Bella Cooper and Jimmy Isaac. She is named after singer and songwriter Stevie Nicks. She suffered from a collapsed trachea, but was saved by Boyd Rolleston after he made a bio-degradable stent for her with his 3D printer, the first operation done in New Zealand. She requires another surgery to deal with her reflux, separate from her tracheal stent. She is Portrayed by Biance Murray and Ruby Pateman.
Ad blocker interference detected!
Wikia is a free-to-use site that makes money from advertising. We have a modified experience for viewers using ad blockers

Wikia is not accessible if you've made further modifications. Remove the custom ad blocker rule(s) and the page will load as expected.