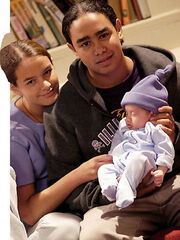 She married Tama in 2006 before then she and Tama had a baby boy who they name Ngakau. But after 2 weeks of being alive Ngakau had died Shannon and Tama were devastaed of their son's death. Shannon was also surprised that Tama had survied the building cloapsing after that Shannon said yes to be his wife. After they got married Shannon got pregnant again and she and Tama had a baby girl named Raingmarie. 
Ad blocker interference detected!
Wikia is a free-to-use site that makes money from advertising. We have a modified experience for viewers using ad blockers

Wikia is not accessible if you've made further modifications. Remove the custom ad blocker rule(s) and the page will load as expected.