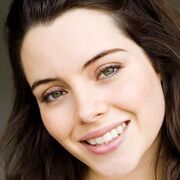 Claire Simone Solomon made her first appearance on Christmas Day 2004. Claire was the troublesome teenage sister of hospital CEO, Andrew Solomon (Paolo Rotondo) and quickly became a fan favourite.[6] Claire arrived unexpectedly back into Andrew's life in late 2004 after spending 8 years in England. Claire scandalously briefly dated older man, Maestro (Gregory Paintin) before over dosing on stolen morphine. She began to date Jake Valentine (Calum Gittins) before accidentally running someone over in her car lead to her controlling her bad-girl ways. However Claire left Jake for an affair with much older doctor, Mark Weston (Tim Foley) and much of the hospital staff rallied against her. Claire found anew lease for life in dating religious fanatic, Baxter Cormack (Tom Hern). The two became engaged but he ended up dumping her for religion. Claire scandalously had an affair with flat mate Kieran Mitchell (Adam Rickitt) whilst he was dating Libby Jeffries (Fleur Saville) before she had a brief fling with Joey Henderson (Johnny Barker).In July 2007, Claire's naked body was found in a hospital dumpster and it was clear she had been murdered. For sometime after while the identity of Claire's killer remained unknown Kieran began to have nightmares about Claire's death and, due to his short memory, suspected he may have killed her without remembering it. In December it was revealed she, alongside 4 other women, had been murdered by Joey
By Willie TeKeu Whakamau Wilson!
I saw Emily robins at the Auckland Mueseum!
Ad blocker interference detected!
Wikia is a free-to-use site that makes money from advertising. We have a modified experience for viewers using ad blockers

Wikia is not accessible if you've made further modifications. Remove the custom ad blocker rule(s) and the page will load as expected.